Recipe: Appetizing My Homemade Chicken an Rice
My Homemade Chicken an Rice. Homemade Chicken Rice-A-Roni Recipe - you'll never use the boxed stuff again! Rice, spaghetti, chicken bouillon, Italian seasoning, parsley, garlic You will never open another box of Rice-A-Roni after making this rice. This Homemade Chicken Rice-A-Roni is just as easy as the boxed stuff, but it.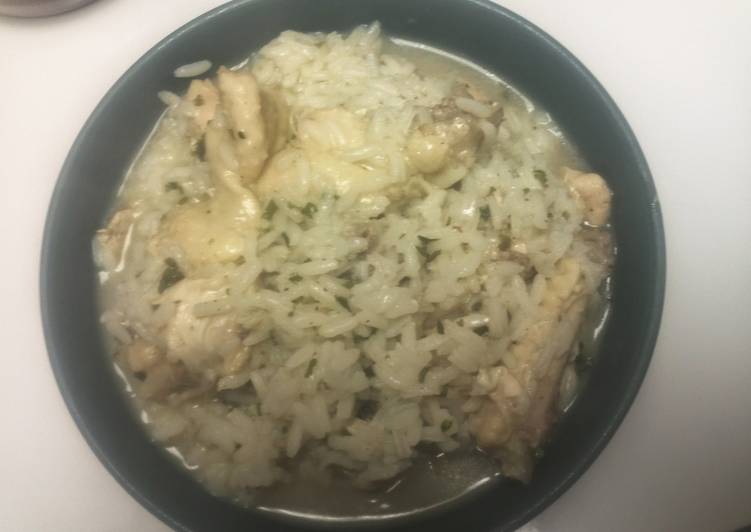 It just makes logical sense to me to spread the workload of a household over multiple families or multiple generations. This homemade chicken and rice soup was just the ticket for today. It has been snowing all day and I wanted something warm and comforting without having to run to the store. You can cook My Homemade Chicken an Rice using 6 ingredients and 3 steps. Here is how you cook that.
Ingredients of My Homemade Chicken an Rice
You need 1 of carrots.
It's 1 of celery.
You need 1 of black peppercorns.
It's 1 of chicken base.
You need 1 of long grain rice.
Prepare 1 of whole chicken cut up.
Chicken and rice soup, however, was made from scratch and an all-day affair we savored. My mom knew what she was doing: Save the chicken noodle soup for sick days and make this chicken and rice soup whenever you need to taste home in a bowl. I think this Homemade Chicken Rice-A-Roni is even better than the box! This homemade hamburger helper is a big hit too.
My Homemade Chicken an Rice step by step
Cook the chicken with everything else until , chicken is falling off the bone..
Take off heat then,let cool and take off the bone strain liquid twice then,put back on the heat and add rice ..
Season to taste you can add parsley at the end.
Homemade chicken rice-a-roni is a great recipe for letting kids practice their cooking skills: stove top safety, chopping, sauteing and more! A Homemade San Francisco Treat: Chicken Vermicelli Rice. I made it as directed using a basmati brown rice mixture. Then I added a touch of salt and pepper a can of tuna (yes I said tuna fish--from Costco) and just a very small amount of mayo. Instead of boiling your rice in water, try cooking rice with chicken broth.