Recipe: Appetizing Mike's Tropical Chicken & Rice
Mike's Tropical Chicken & Rice.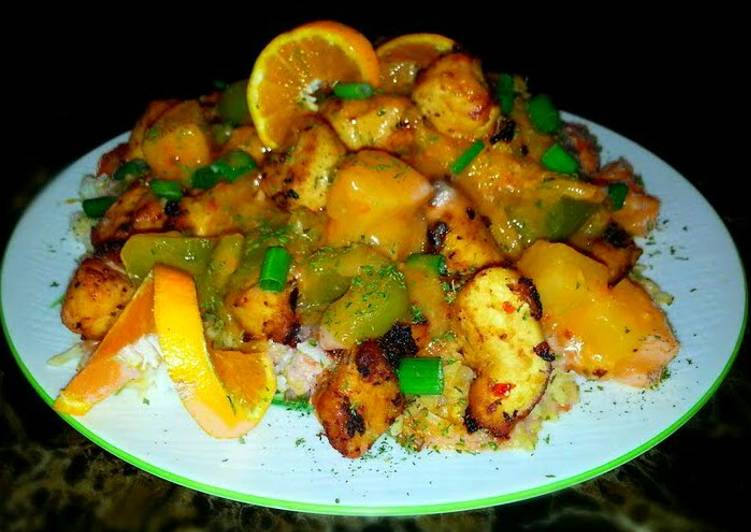 You can have Mike's Tropical Chicken & Rice using 24 ingredients and 11 steps. Here is how you achieve that.
Ingredients of Mike's Tropical Chicken & Rice
Prepare of Tropical Chicken - Rice - Garnishes.
Prepare 4 of large Boneless Chicken Breasts.
Prepare 1 can (8 oz) of Dole Pineapple Chunks & Juice.
You need 3 cup of Orange Juice & Orange Chunks [reserve 1 cup].
Prepare 3 tbsp of Brown Sugar.
It's 2 of small Tangerines & 1/2 tsp Zest.
Prepare 2 tbsp of Each: Minced Garlic - Garlic Chili Sauce - Dried Red Onions.
Prepare 2 of Jalapeños [chopped with seeds removed].
It's 2 box (32 oz) of Chicken Or Vegetable Broth.
You need 1 tbsp of Each: Lemon & Lime Juice - Red Pepper Flakes - Fresh Ginger - Soy Sauce -.
Prepare 1 of Green & Red Bell Pepper.
It's 1 of large Mango.
Prepare 1/4 tsp of Black Pepper.
It's 1 of garnishes & additions.
You need 3 tbsp of Sesame Seeds [garnish].
Prepare 1/4 cup of Fresh Cilantro [garnish].
You need 1/4 cup of Fresh Green Chives [garnish].
It's 1/4 cup of Fresh Parsley [garnish].
Prepare 1 Bottle of Soy Sauce [for serving].
It's 1 Bottle of Garlic Chili Sauce [for serving].
It's 1 of thickener.
You need 2 tbsp of Cornstarch [more may be needed].
It's 1 of rice.
It's 4 cup of Uncooked Rice.
Mike's Tropical Chicken & Rice instructions
Trim fat from chicken breasts. This is what a boneless, fat trimmed breast should look like. Pound to tenderize meat by placing a Ziplock Bag over your breasts and pounding them with a kitchen mallet..
Zest tangerine, peel and cut sections in half, chop oranges and mango, pineapples and chives, mince garlic and slice bell peppers and jalapeños..
Mix everything [except garnishments, cornstarch, broth and rice] together, including chicken breasts in a bowl or Ziplock Bag and refrigerate for at least 2 hours minimum to marinate. Stir occasionally and make sure your chicken is submerged..
Pull chicken breasts out and cut into 1"x 1" cubes and lightly season any way you'd like. [powdered ginger-lemon pepper-onion powder-garlic powder] Place on non stick tinfoil and bake at 350° for 20-25 minutes. You can also fry them. After baking or frying, set to the side. I cook mine in a T-Fal ActiFry..
Separate your garnishments from your marinade vegetables..
FOR THE MARINADE: Place the marinade and veggies + 2 cups chicken broth and 1 cup of reserved orange juice in a pan and simmer for 20 minutes. If your mixture boils down too much, add more broth. Now you can tinker with your recipe to suit your tastes. Is the marinade sweet enough? Does it need more ginger? It's all up to you. You're the Chef!.
TO THICKEN MARINADE: Mix 2 tbs cold water and 1 tbs cornstarch and slowly add to your simmering pan. You can make this marinade as thick or as thin as you'd like, or as much as you'd like by adding more broth. You'll be hard pressed to dilute the citrus flavor by adding more broth..
FOR THE RICE: Rinse 4 cups rice in a bowl until the starch water runs clean then drain well. Add 2 or 4 cups chicken broth [instead of water] or whatever amount your rice package calls for, to a separate pot. Add rice, bring to a boil and stir. At boil, place lid on tight and reduce temperature to low and simmer for 15 minutes. Do not remove lid. After simmer, shut off flame and let rice stand with lid on for 10 more minutes..
SERVING: Pack warm rice in to a clean Ramekin. Place a clean plate on top of it. Turn the Ramekin over to place rice on serving plate. Gently top rice with some marinade reduction, add on chicken pieces and top again with your reduction..
GARNISH with chopped chives, parsley, cilantro, sesame seeds, orange twists and serve with soy sauce..
Or you can serve your rice flat on individual dishes or buffet style..