How to Cook Appetizing Asian Marinated Chicken w/ Bacon Steamed Fresh Green Beans
Asian Marinated Chicken w/ Bacon Steamed Fresh Green Beans. Steamed green beans are more flavorful and more nutritious than boiled. This easy method can be used with just about any fresh vegetable. Any steamer basket will work for this recipe, as long as it fits in your pot with the lid on.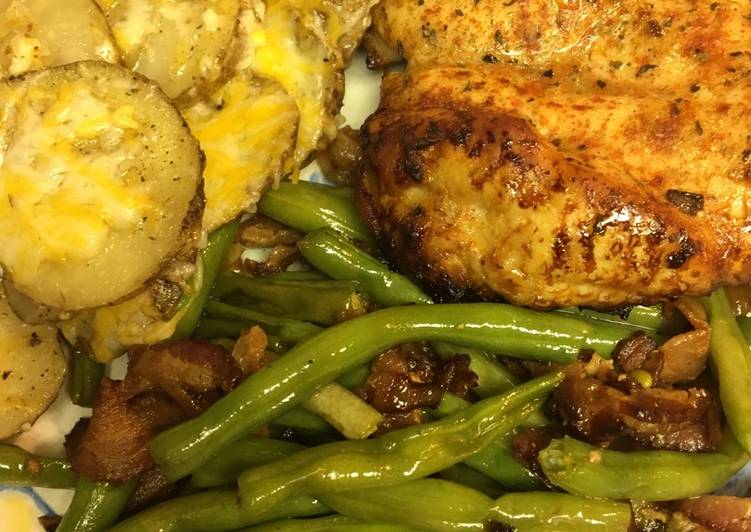 This Asian seared Chicken and Green Beans recipe has the marinade and method to get you the most tender chicken of your life! How to make Asian Seared Chicken and Green Beans. Have you ever made orange chicken? You can cook Asian Marinated Chicken w/ Bacon Steamed Fresh Green Beans using 8 ingredients and 18 steps. Here is how you cook it.
Ingredients of Asian Marinated Chicken w/ Bacon Steamed Fresh Green Beans
It's 2-3 of extra large chicken Breast.
You need of Marinate chicken in something Flavorful and acidic. You can make your own.
Prepare of Fresh Green Beans.
It's 4 of large Russet potatoes sliced thin rounds.
It's 4 of sliced of Bacon cooked and chopped up.
Prepare 1/3 cup of sweet onion.
Prepare 1 cup of your favorite shredded cheese or cheeses.
Prepare of For Potatoes I used kosher Salt, onion powder, garlic powder, fresh ground pepper.
Allrecipes Allstar, Melissa created delicious green beans steamed with Swanson®. Taking a new approach to fresh green beans, steamed with Swanson® Chicken Broth and black pepper, add bacon, and drizzle with a creamy butter-less garlic. Fresh green beans are a wonderful thing. Cook these by briefly blanching, then sauté in bacon fat.
Asian Marinated Chicken w/ Bacon Steamed Fresh Green Beans step by step
Preheat oven to 425 degrees. Bake chicken one hour cover with foil the first 40 - 45 minutes.
Before baking the chicken, sear on high heat. All four sides just until each side is brown..
Potatoes are cleaned dried Sliced thin, dry again. Drizzle a little bit of Olive oil, dash of salt fresh ground pepper, cumin, onion powder, garlic powder and Salt..
I used an 8 inch x 2 inch round pie pan. I placed potatoes one layer all over the pan. Sprinkle cheese, place potato layer and then cheese. Repeat until potatoes are gone. No cheese top layer yet..
Place foil on potatoes the first 45 minutes. The last 15 minutes take off foil, sprinkle cheese generously place back in oven for 15 minutes or until cheese melts..
Fry bacon, when bacon is almost done... add chopped sweet onion and I topped mine off with a tablespoon of fresh minced Garlic. Throw in Cleaned and trimmed green beans. Cook just until tender not mushy..
Dessert is very healthy. Banana Oat 7 Grain Bars..
I mixed up the recipe. I rarely follow directions..
Preheat oven to 425 degrees. Cook for 20 minutes for chewy, a little longer for a little crunchier..
2 1/2 cups of any 7 Grains. Place in Blender or food processor to break down the bigger chunks..
I added 2 heaping teaspoons of Ground flax.
3 heaping tablespoons of low or no sugar healthy peanut butter or almond, any of your favorite..
2-3 large over ripe bananas mashed, I used 4. It added a little sweetness to it. And what is a healthy bar without unsalted sunflower seeds.
This was suppose to Cookies. You can add, chocolate chips, craisins, raisins etc. your choice or none at all..
I chose to place my mixture in an oiled 8x6x2 inch dish. It only filled about an inch up the pan. Because there is no flour, no eggs, etc..
Cookies bake @ 425 greased pan, or Silpat or parchment paper. 7-12 minutes. You should get about 12 cookies. I made bars, cooked 20 minutes still slightly chewy..
These are not the type of cookies you sit and five or six. Even the big guys across from us eat one a day. So much fiber they are filling..
Allow to cool 15 minutes. I topped one of mine with chopped strawberries and bananas. I keep this most of the time for my sweet tooth and corn flakes at breakfast..
Toss with a little bacon, black pepper, and vinegar, and serve Fresh Green Beans from the Garden. My father is rather picky about his green beans. They must snap and break when you bend them, not. Drain, immerse in ice water till cool. Whisk vinegars, sugar, EVOO, salt and pepper together in a serving bowl.