Easiest Way to Cook Perfect Chicken and rice casserole, aka leftovers
Chicken and rice casserole, aka leftovers. Learn how to use leftover chicken and rice into a delicious casserole that everyone will love. And if they don't then they hate the environment. Chicken breasts, rice, French onion soup mix, and cream of mushroom soup are all you need to make this When I reheat the leftovers I put a little butter in it and it's wonderful!!!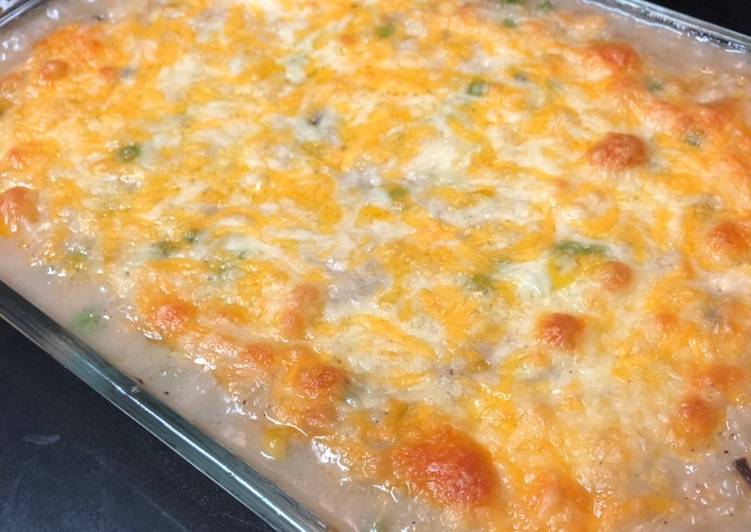 Chicken & Rice Casserole recipe: So incredibly delicious. Amazing leftovers the next day too. Amazing leftovers the next day too. You can have Chicken and rice casserole, aka leftovers using 9 ingredients and 3 steps. Here is how you cook that.
Ingredients of Chicken and rice casserole, aka leftovers
Prepare 4 cups of packed leftover cold cooked rice.
Prepare 3 cups of leftover cold cooked chicken.
You need 1 of large can (22.6 oz) cream of mushroom soup.
It's 1 can (15.25 oz) of whole kernel corn, drained.
You need 1 cup of frozen peas.
You need 1/4 of Parmesan cheese.
You need of Pepper, garlic and onion powders.
Prepare 1/2 cup of water.
Prepare of Grated cheese of choice for top.
You can make ahead of time, even freeze, and then bake whenever. A great use for leftover chicken or turkey. Uses no Cream of Whatever soup. A creamy wonderful one dish meal of chicken, rice 'n peas, topped off with a mixture of bread crumbs and Parmesan cheese and baked until golden brown.
Chicken and rice casserole, aka leftovers instructions
Preheat the oven to 350. Spray or butter a medium sized casserole dish..
In a large bow, combine the first 8 ingredients well. Pour into greased casserole and cover with aluminum foil. Bake for 45 minutes..
After 45 minutes pull it out of the oven, crank the temp to 400, and remove foil. Add your grated cheese to the top and return to the oven uncovered for 15 minutes longer. Allow it to sit for a bit to thicken. I serve it with salad and garlic bread..
This chicken and rice casserole is frequently requested by my husband who grew up calling it "Forgotten Chicken." Simple and satisfying! And now you know how to do the complex step of laying the chicken breasts over the rice mixture and lightly sprinkling them with your favorite seasoning. This hearty Tex-Mex Chicken and Rice Casserole will definitely keep you warm and full in the upcoming winter months. Just add a side salad and it's a perfect well-rounded dinner. Dare I say, it's even better the next day as leftovers?